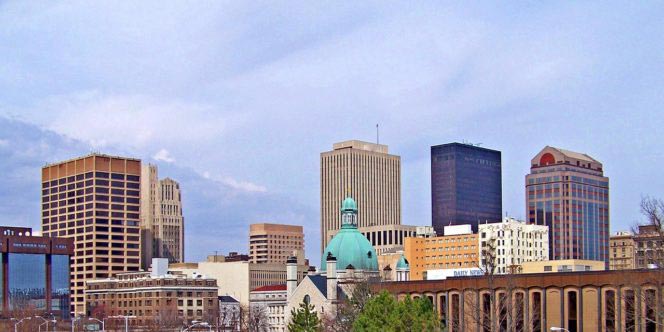 Rated "Best Movers Ever!" on Move from Nelsonville to Dayton, Ohio
Happy customers are our number-one goal at Herlihy Mayflower. One of Ohio's oldest moving companies, we've built our business on customer service.
We love to receive feedback from customers like Mary Ellen G.  She called our Athens Office for help with moving to Dayton, Ohio,
We all her furniture and other goods from a large home in Nelsonville to another in Dayton. The move included swapping refrigerators between her old and new homes.
After everything was unloaded at her new home, Mary Ellen said we were "The Best Movers Ever!"
With nearly 100 years of experience, Herlihy Mayflower has earned the trust of thousands of customers like Mary Ellen.
Since 1920, our family has moved families and businesses from almost every city, town, village and unincorporated area in Ohio.
As a result, we know cities like Nelsonville and Dayton like no other movers.
Nelsonville: The Star of Hocking Hills
Located about 60 miles southeast of Columbus, Nelsonville is a city of about 5,400 in Athens County. It sits along the Hocking River about 13 miles northwest of Athens.
Known as The Star of the Hocking Hills, Nelsonville sits at the edge of Hocking Hills region. Hocking College and The Rocky Boots company are major employers.
Dayton: Ohio's Fourth Largest Metro Area
With over 800,000 residents, Greater Dayton is Ohio's fourth largest metro area. It sits within the Miami Valley Region about 70 miles west of Columbus.
Considered the birthplace of aviation, Dayton hosts The Wright Brothers Historical Museum.
Historically a hub of innovation, Dayton is home to companies involved in industrial and aviation engineering. Wright-Patterson Air Force Base and the U.S. Air Force Museum are among large local employers.
Experience the Herlihy Mayflower Difference
Looking for a professional, reliable Ohio moving company serving Nelsonville and Dayton, Ohio?
Contact us today for a free moving quote.  One of Ohio's oldest moving companies, we have moved over 100,000 families and businesses. We're BBB accredited with an A+ rating.
Herlihy is a locally owned and top-rated agent of Mayflower Moving. We have the resources to move you, no matter where you need to go.
Contact our offices in Chillicothe, Athens or Columbus, Ohio to experience the Herlihy difference.