The Most Reliable Local Moving Company in Ohio
Herlihy Moving & Storage has the top local movers in the state. We provide businesses, offices, and homeowners with high-quality moves around the greater Columbus, Athens, and Chillicothe, Ohio areas, as well as to other points within the state of Ohio. If you're looking for a premier local moving company, fill out our form for a free moving quote today.
We have a variety of truck sizes that can service any size move from a small apartment to a large home.
Our uniformed movers are all full-time employees, and each undergoes a drug screen and background check.
We also utilize the proper equipment to ensure a safe and efficient move.
This includes floor protection materials, wardrobe cartons to safely move hanging items and furniture blankets to protect your belongings in transit. Our well-trained movers are prepared to move you safely, efficiently and cost effectively.
Local Moving Services in Communities Throughout Ohio
Herlihy is proud to offer local moving services in communities throughout Ohio. With offices in Columbus, Athens, and Chillicothe, we're able to service moves throughout the Buckeye State. With a range of specialized local moving services,  we can help you with all of your moving needs.
Our experienced local movers will make sure your move is as stress-free and efficient as possible, from packing up your belongings to delivering them safely to their new home. We will customize our services to best fit the unique needs of your move, whether it's a small apartment or an entire house.
---
Full Service, Labor, and DIY Moving Solutions
Herlihy Moving and Storage also offers full service, labor only, and DIY moving solutions. Our full-service moves include packing, loading, unloading, and unpacking your belongings with no extra hassle or stress. For those who are more hands-on, our labor-only service provides you with a team of experienced local movers that will help load and unload your possessions. And for those who prefer to be in control of their move, we offer DIY moving options that will give you the flexibility and control you need.
Packing Services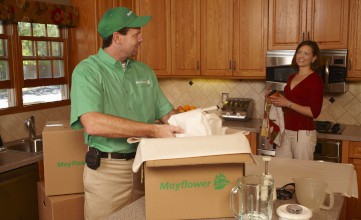 You have so many things to do while planning your move – packing doesn't have to be one of them! Herlihy's expert team of specially-trained packers will come to your home and carefully pack and protect your treasured items to avoid jarring and shifting on the road. Most furniture is wrapped with specially-constructed cloth pads to protect it from scratches, dents and dirt. We'll also protect items that might surprise you – gardening tools, for example, are padded to prevent them from scratching or soiling other items in the shipment. For more details check our FAQsCheck out our Moving Tips and Packing Tips for some helpful tools for your next move.
Request Your Free Move Quote
At Herlihy Moving and Storage, we are proud to provide high-quality local moving services in Ohio. We have the expertise and resources to make your move as stress-free as possible. Request your free moving quote today and one of our knowledgeable representatives will contact you shortly. We look forward to providing you with a smooth and successful move!