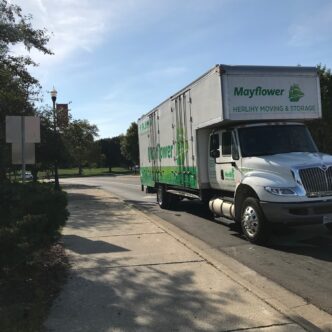 Since 1920, Ohio families, businesses and public universities have put their trust in Herlihy Mayflower. With trained moving professionals and state-of-the-art equipment, we make even the most complicated moves as easy and stress-free as possible. We offer almost a century of experience in office and industrial moving.
Recently, a large public university in Columbus, Ohio called on our team to handle an interdepartmental office move.
After all the office furniture, equipment and other supplies were set up in the new offices on the Columbus campus, university move coordinator Sherry S. wrote to tell us how pleased she was with the moving process.
"Just wanted to let you know that your guys were here, timely, and professional," she said. "Thank you for the quick turnaround."
It was our pleasure to move you, Sherry. Enjoy your new offices and the school year!
Looking for a professional, reliable Columbus, Ohio office moving company? Contact us today to experience the Herlihy Moving & Storage difference. As one of Ohio's oldest moving companies, we have moved thousands of families and businesses within Ohio, across the United States, and around the world. We're BBB accredited and Angie's List approved. And, as a locally owned and top-rated agent of Mayflower Moving serving Chillicothe, Athens, and Columbus, Ohio, we have the resources to move you, no matter where you need to go.