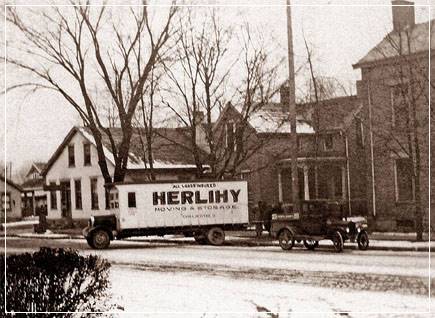 March 17, 2019 marks the beginning of Herlihy Mayflower's 99th year in business. As one of Ohio's oldest moving companies, we've completed more than 100,000 home and business moves over the years.
Established in 1920 by John Herlihy, Sr. in Chillicothe, we're a third-generation family business with deep roots in Chillicothe, Columbus, and Athens, Ohio. Herlihy Moving & Storage became an authorized Mayflower agent in 1933, making us the oldest family owned and operated Mayflower agent in the country.
Hard Work Becomes a Family Tradition
John Jr. began helping in the business by pumping gas and cleaning windshields while he was in grade school. After receiving his driver's license at age 13, he began working on company trucks.  He would go on to take over the business after his father's passing in 1948 – but not before graduating from the U.S.  Naval Academy at Annapolis and serving his country for four years.
Growing and Investing in the Community
Under John Jr.'s leadership, Herlihy Mayflower invested in a new office, warehouse and mini-storage space in Chillicothe. We also expanded our fleet of trucks and equipment and increased our service footprint throughout south and central Ohio.
John Jr. also was deeply involved with the local business community. He served several terms on the Chillicothe City Council and as Chamber Chairman of the Board of the Chillicothe Ross County Chamber of Commerce in 1966.
Expanding to Columbus, Ohio
The third generation of the family got involved in Herlihy Mayflower upon Joseph D. Herlihy's resignation from the Navy in 1994. Within a year of his return, the company expanded into Columbus, Ohio. That same year, James Herlihy joined the business full-time, running the Columbus operation.
Continuing Growth Under Third-Generation Leaders
John Jr. retired in 1998, turning over management to President Joe Herlihy and Vice President James Herlihy. The company has more than tripled in size under their leadership. They have continually invested in new equipment, real estate and new lines of business.
Joe Herlihy has continued the family tradition of community service by serving on the Chillicothe City Council. Currently, he is running for Council President.
Celebrating 99 Years
As we enter our 99th year, Herlihy Moving & Storage manages over 190,000 SF of storage related business, serving nearly 500 mini-storage customers.  We operate in three primary sales territories—Greater Columbus, Athens, and southeastern Ohio—and market our services in 37 counties covering more than a third of Ohio.
The fourth generation of Herlihy children is now old enough to wash windows and work on the trucks during the summer.
We are proud of our Ohio roots and expect Herlihy Moving & Storage to continue growing under family leadership throughout the 21st century.