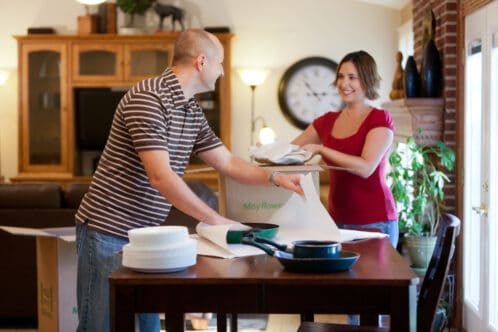 Congratulations! You're about to enter one of the happiest – yet potentially most stressful – times in your life.
Marriage brings more than just two people together – it's also a merger of belongings.
Whether you are moving in together before or after the wedding, some advance planning, proper packing and organization can make the move go more smoothly.
Here are some simple tips to ensure the honeymoon continues through the move:
Start early
Even though you have a million-and-one things to get done before the wedding, don't procrastinate about moving. It's a good idea to start planning about six weeks before the moving date. Waiting until the last minute dramatically increases stress on everyone.
Take inventory of your possessions
Begin taking inventory of everything in your home as soon as you decide to move. Have your spouse-to-be do the same so you can make decisions about what to keep and what to sell, donate or throw away. You might be amazed at how much stuff each of you owns when you add up all the furniture, kitchenware, clothes, books, audio and video equipment, pictures, sports equipment, artwork and other belongings. Be sure to include wedding gifts such as china, crystal, electronics and other home items that might be stored elsewhere.
Get rid of what you don't need
Make a list of the items you'd like to keep and compare it with the list your spouse-to-be has made. At a glance, you'll see where belongings overlap. You can save a tremendous amount of time by getting rid of duplicate items before you begin packing. Decide what to throw away, donate or sell at a garage sale or on Craigslist. If you're planning to sell a home, this will help clear out the clutter and make your home "show" better to prospective buyers.
When using a professional mover, you'll also save money if you have fewer belongings to be packed and moved.
Take an emotional break, if needed
If you're having trouble letting go of belongings, give yourself a one-week break before going through your possessions again with a more critical eye. Once you get used to the idea of parting with certain items, it may be easier to make a final decision.
Determine how much you can take to your new home
Compare your new space with the space in your existing residences. Try to visualize where you'll place specific pieces of furniture to help you decide what will fit. You might want to use graph paper to plot out different arrangements of furniture based on the size of your rooms. After you decide what to take, you can sell, give away or store pieces that won't fit.
Be ready to compromise
When it comes to household décor, you and your new spouse may not have the same style. Tastes differ, and many people have emotional attachments to certain belongings. The lamp you find hideous might be a cherished gift from a parent or grandparent. Make sure to put the health of your relationship above any other considerations when deciding which belongings to bring to your new home together.
Keep track of important names and numbers
Keep a list of all contact names and phone numbers of everyone involved in your move. This includes representatives at the moving company, the real estate office or apartment leasing company, and the utility companies in both your current and future residences. Having contacts at your fingertips will help you quickly resolve any questions or issues that may arise.
Get some help
Consider hiring a professional mover to lessen the stress of moving.
A professional mover will come to your home and walk through the move with you beforehand. The mover will estimate the cost, discuss packing and unpacking options with you, work out a mutually convenient schedule and make sure all your moving questions are answered.
If they handle the packing, professional moving companies also will assume responsibility for any breakage, provided it handles the packing (an important consideration when moving valuable wedding gifts such as china and crystal).
At Herlihy Moving & Storage, our movers are trained in packing techniques and have specially designed materials and boxes for china and crystal – all of which help to ensure the safe transportation of belongings.
Celebrate!
Once you've settled in to your new home, it's time for fun. Unwind with a dinner date for the two of you, or throw a festive housewarming party for family and friends. You deserve it!
Looking for a professional, reliable Columbus, Ohio moving company? Contact us today to experience the Herlihy Moving & Storage difference. As one of Ohio's oldest moving companies, we have moved thousands of families and businesses within Ohio, across the United States, and around the world. We're BBB accredited and Angie's List approved. And, as a locally owned and top-rated agent of Mayflower Moving serving Chillicothe, Athens, and Columbus, Ohio, we have the resources to move you, no matter where you need to go.