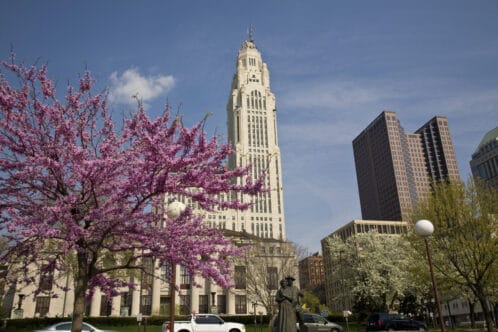 With more than 99 years of moving experience, Herlihy Mayflower has the experience, trained personnel and locally-owned equipment to handle any move – whether across town, throughout Ohio or around the globe. With offices in Columbus, Chillicothe and Athens, our drivers know how to navigate Ohio traffic and deliver your belongings on time.
Plus, we're fun to work with, according to recent customer Marie M., who asked for help for a local move in Columbus, Ohio. Ohio's capital city is one of the fastest-growing large cities in the country. It ranks 14th in population among U.S. cities and is the third-most-populous state capital. To learn more about Columbus, visit A Guide for Planning Your Move to Columbus Ohio.
After her Columbus-based moving team had finished moving her furniture and other belongings to her new home in Columbus, Mary wrote a five-star review.
"Fabulous moving experience!" she said. "Lovely men and very caring of your belongings."
"But beyond that they are knowledgeable of furniture placement and are willing to let their years of experience filter down to what they think is the best for you and your new home," she added. "Plus they were a ton of fun to work with!"
Thanks for the kind words, Marie. It was our pleasure to help you move!
Looking for a professional, reliable Columbus, Ohio moving company? Contact us today to experience the Herlihy Moving & Storage difference. As one of Ohio's oldest moving companies, we have moved thousands of families and businesses within Ohio, across the United States, and around the world. We're BBB accredited and Angie's List approved. And, as a locally owned and top-rated agent of Mayflower Moving serving Chillicothe, Athens, and Columbus, Ohio, we have the resources to move you, no matter where you need to go.