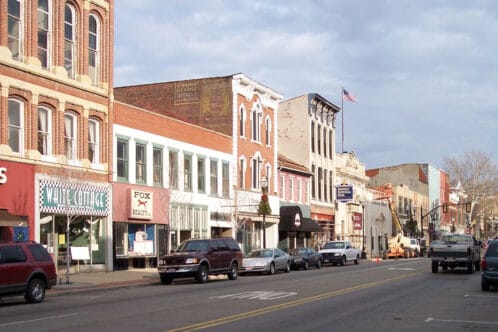 Ohio moves have been a specialty of Herlihy Moving & Storage since 1920, when founder John Herlihy, Sr. handled his first move in Chillicothe, Ohio. Since then, we've expanded to three offices – including Columbus and Athens as well as Chillicothe.
Brent N. recently called our Columbus office for help with a move from Grove City to Lancaster, Ohio.
Grove City is home to Herlihy's central Ohio operations. This growing city in southern Franklin County has almost 42,000 residents.
Lancaster is a historic Ohio city with about 39,000 residents. The county seat of Fairfield County, Lancaster is located approximately 33 miles southeast of Columbus near the Hocking River. The area surrounding Lancaster was inhabited for thousands of years by a series of indigenous peoples, ranging from the Hopewell and Athena cultures to the Shawnee, Wyandot and other tribes.
The village of Lancaster was founded in 1800, primarily by settlers of German heritage who migrated from Pennsylvania. Modern Lancaster is distinguished by a rich blend of 19th-century architecture and natural beauty.
A moving team from our Columbus office loaded Brent's furniture, household goods and other belongs in Grove City and drove them 36 miles to his new home in Lancaster. After the team finished unloading everything at his new home, Brent wrote to compliment the team on their work.
"All three men did an excellent job and were very friendly," he said.
We appreciate your kind words, Brent, and wish you all the best in your new Lancaster, Ohio home.
Looking for a professional, reliable Columbus, Ohio moving company serving Grove City and Lancaster, Ohio? Contact us today to experience the Herlihy Moving & Storage difference. As one of Ohio's oldest moving companies, we have moved thousands of families and businesses within Ohio, across the United States, and around the world. We're BBB accredited and Angie's List approved. And, as a locally owned and top-rated agent of Mayflower Moving serving Chillicothe, Athens, and Columbus, Ohio, we have the resources to move you, no matter where you need to go.