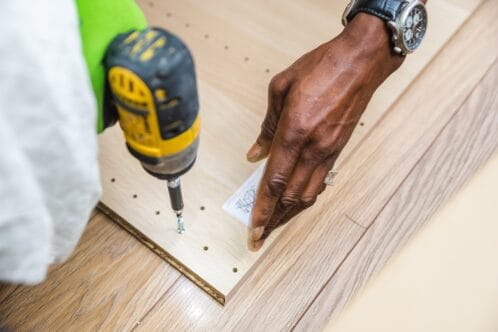 The goal of any move is to make sure that your furniture and other belongings arrive at your new home in the same condition as when they left your old home. To meet that goal, certain pieces of furniture may need to be taken apart.
Most large, solid pieces of furniture can be moved intact. If you purchased a dresser, cabinet, sofa or other piece of furniture that was delivered in one piece, it can be moved the same way. Your Herlihy Mayflower moving team will blanket and/or shrink wrap your furniture to protect it during the move.
Furniture that requires do-it-yourself assembly after purchase often travels better once disassembled. It was not designed for moving as a unit. It may contain brittle wood or other elements that break easily. Moving also can put stress on screws and joints, leaving you with a wobbly piece of furniture.
Professional Moves: Do I Need to Take Furniture Apart, or Will My Moving Company Handle It?
At Herlihy Mayflower, disassembly and reassembly of most furniture with up to about 12 screws or fasteners is included in the cost of most local and long-distance moves.  Exceptions include: Do-it-yourself assembly furniture such as Ikea and Sauder Woodworking, furniture that requires special tools, air beds, appliances, grandfather clocks, computer desks, wall units, armoires, surround sound and other electronics, exercise equipment, pool tables, chandeliers, swing sets, dismounting TVs and anything out of the ordinary. These exceptions sometimes require a third-party service at an additional charge. Ask your Herlihy Mayflower moving coordinator for more information.
Tips for Do-It-Yourself Movers
Since local moves are priced by the hour, some customers prefer to disassemble and reassemble furniture themselves to save money. If you're handling this aspect of the move yourself, consider the tips below.
Bed frames
Headboards and footboards need to come off to move beds properly.
Bookshelves and Cabinets
Most shelving units can be moved in one piece. However, many units have both permanent and floating shelves. It's a good idea to remove any floating shelves and wrap them separately. Glass doors should be removed or taped shut and padded with a moving blanket.
Dressers
Most dressers and vanities can be moved in one piece, but any mirrors should be removed and wrapped separately. Clothing and lightweight items can be left inside dresser drawers, but make sure to remove anything heavy or breakable before the move. Drawers should be secured before moving.
Dining Room Table
Depending on the construction of the table and the size of the moving truck, it may be possible to move a dining room table in one piece.  Often times the legs are removed to make it easier and safer to move.
Keep Furniture and Parts Together
When you take something apart, remember to place all the screws, hinges and other small components in a plastic bag. Label the bag and attach it to the piece of furniture.