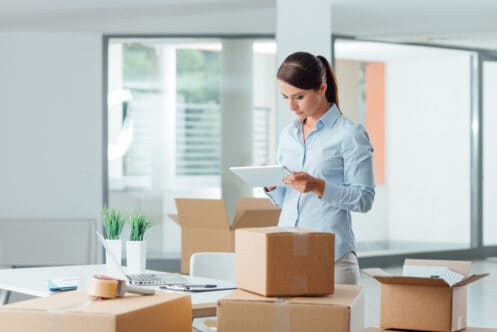 Moving Review: Office Move from Wilmington to Sabina, Ohio
Posted By: herlihywp
Comments: 0
Categories: Chillicothe, moving, reviews
With almost a century of experience in office and industrial moving, Herlihy Mayflower is the company to call when you need to move with minimal disruption to business operations. We have the experience, trained personnel and specialized equipment needed to handle office moves with ease.
We recently handled a move for a global agricultural company from their offices in Wilmington, Ohio to Sabina, Ohio. This repeat customer has called on Herlihy for several moves.
The seat of Clinton County, Wilmington is southwestern Ohio city with about 13,000 residents. It sits between Columbus and Cincinnati along I-71.
Sabina is a Clinton County village located between Wilmington and Washington Courthouse with about 3,000 residents. It is within an hour's drive of Columbus, Cincinnati, Dayton and many other Ohio cities and towns.
For this office move, the Herlihy Chillicothe team loaded company desks, office chairs, tables, shelves, cabinets, and filing cabinets in Wilmington and delivered them to another office in Sabina about 10 miles away. Our team worked with company moving coordinator Grace M. to ensure that the move was completed with as little down time as possible for the business and its associates.
After all the furniture was delivered, Grace wrote to let us know how pleased she was with the crew's courtesy, punctuality and efficiency. "They did awesome!" she said.
Thanks for the kind words, Grace. It's always our pleasure to help you move!
Looking for a professional, reliable Ohio moving company serving Wilmington and Sabina, Ohio? Contact us today to experience the Herlihy Moving & Storage difference. As one of Ohio's oldest moving companies, we have moved thousands of families and businesses within Ohio, across the United States, and around the world. We're BBB accredited and Angie's List approved. And, as a locally owned and top-rated agent of Mayflower Moving serving Chillicothe, Athens, and Columbus, Ohio, we have the resources to move you, no matter where you need to go.