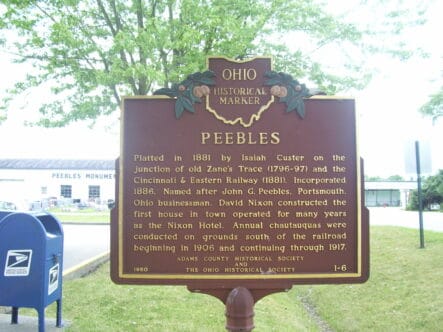 Moving Review: From Chillicothe, Ohio to Peebles, Ohio
Posted By: herlihywp
Comments: 0
Categories: Chillicothe, moving, reviews
As a small, family-owned moving and storage company, Herlihy Mayflower is proud to have built our business on satisfied repeat customers like Marla B., who most recently called on our help for her move from Chillicothe to Peebles, Ohio.
Peebles is famous as the location of Serpent Mound, an internationally known effigy mound built in the shape of a snake with a curled tail. It was built by ancient American Indian cultures of Ohio.
This village of around 1,800 residents is in Adams County, Ohio, about 46 miles southwest of Chillicothe and 64 miles east of Cincinnati. Named for prominent Portsmouth, Ohio business owner John G. Peebles, the village was originally plotted in 1881 at the intersection of the old Zane's Trace and the Cincinnati & Eastern Railway.
Located along the Scioto River, Chillicothe was the first and third capital of Ohio. Today, it has a population of about 22,000.  To learn more, see our Guide to Moving to Chillicothe, Ohio.
After our Chillicothe moving team had finished moving Marla's furniture and other belongings, she wrote to praise the crew for their courtesy, timeliness and efficiency. "Second time using," she said. "Crew was great AGAIN!"
Thanks for the kind words, Marla. We wish you all the best in your new Peebles, Ohio home!
Looking for a professional, reliable Chillicothe Ohio moving company serving Peebles, Ohio? Contact us today to experience the Herlihy Moving & Storage difference. As one of Ohio's oldest moving companies, we have moved thousands of families and businesses within Ohio, across the United States, and around the world. We are BBB accredited and Angie's List approved. And, as a locally owned and top-rated agent of Mayflower Moving serving Chillicothe, Athens, and Columbus, Ohio, we have the resources to move you, no matter where you need to go.