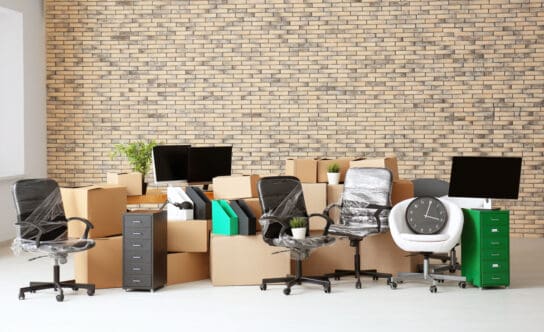 7 Tips for a Stress-Free Office Move
Posted By: herlihywp
Comments: 0
Categories: moving, Moving Tips
Moving an office or industrial building can be stressful, time-consuming and expensive – but you don't have to go it alone. To help you get started, the office relocation experts at Herlihy Mayflower have put together several tips for managing business moves.
Begin planning today. Time is of the essence when relocating an office or industrial complex. To minimize impact on your business operations and employees, start planning as soon as possible. Depending on the size of your company, you'll want three to eight months of planning to ensure that everything goes smoothly during the move. This will allow you to avoid moving during a peak business season. Don't forget to choose a moving company to help with planning and execution!
Review existing tenancy agreements. There are many reasons to consider a move. Perhaps you've outgrown your existing office space or have recently downsized your company and you want to move as soon as possible. Before signing a new lease, review your current contracts. If you have months or years left on your current lease, begin negotiations with your current property owner before signing a new lease.
Involve employees. Moving can be stressful for all concerned. If possible, involve employees in planning the move. For example, you might survey employees about how a proposed move might affect their commuting time. You could also ask about proposed on-site amenities such as an office gym or lunch room to see if interest justifies the cost. Even if you don't involve employees in the relocation decision, make sure to give them ample notice about the move. Once you have chosen the new space, you will need to organize a team to plan and manage the move.
Collect information on your new space. Obtain blueprints or floor layouts so you can identify key components such as doorways, electrical outlets, storage space and heating and cooling ducts. Use these to develop an office or building layout. Make sure to allow time for any needed renovations or construction before the move.
Get IT involved. Most businesses rely on networked computers, telephones and Internet access for smooth operations. Your IT team should evaluate the new space for any required upgrades to the infrastructure or to equipment being brought to the new location.
Downsize and declutter.  Moves are priced based on the weight of the items moved and the time it will take to move them. Take an inventory of all furniture, equipment, supplies and machinery and decide what you want to take to your new location.  Sell or donate anything that doesn't fit into your new location. Use up office supplies if possible, and review and discard unnecessary records. Don't forget to have employees clean out their desks and offices before packing.
Inform customers and partners. Let everyone with whom you do business know that you're moving. Order updates to your website, letterhead, business cards, forms and marketing collateral well before the move. Send a postcard, letter or email to customers, vendors and business partners with your new address and phone number. Don't forget to post updates on social media. And make sure your employees update their email signatures.
Questions about moving? We have answers! Contact us today to experience the Herlihy Mayflower difference. As one of Ohio's oldest moving companies, we have the experience, equipment and trained personnel to manage your office or industrial move smoothly.
An authorized Mayflower agent, Herlihy is part of a global system of relocation specialists. Our drivers, crews, agents and sales representatives will focus on your business day and night. We offer domestic and international moving services to offices, industrial facilities, factories and distribution centers looking to relocate heavy equipment and inventory, including those that require out-of-gauge (OOG) and roll-on/roll-off (RORO) service.