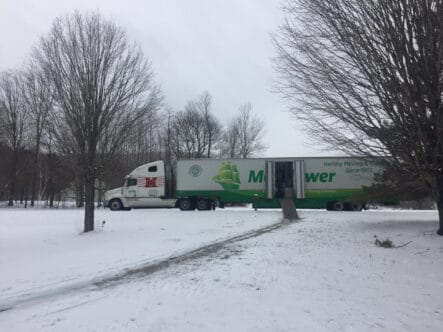 10 Safety Tips for Moving During Cold, Snowy Weather
Posted By: herlihywp
Comments: 0
Categories: moving, Moving Tips
Cold, snow and ice can make moving even more of a challenge, as many of our customers have discovered this year. Here are a few safety tips we have developed after successfully moving thousands of families during Ohio winters since 1920.
Get an Early Start. Winter daylight hours are limited, so use them wisely.
Keep Warm by Dressing in Layers. In frigid temperatures, you will need at least three layers. A base layer against your skin such as a t-shirt or long underwear manages moisture. An insulating layer of shirts or sweaters protects you from the cold. A water-resistant outer layer shields you from wind, rain and snow. You will also want to wear winter hats, gloves, boots and a scarf. You can always remove a layer if you get too warm.
Clear Sidewalks and Driveways. Snowy and icy driveways and sidewalks are a recipe for broken household goods and injuries. Make sure these are clear at both the home you are leaving and the one to which you are moving. We recommend against the use of salt when possible. The crews walk through it and track salt into the house where it can damage flooring.  The best strategy is to clear sidewalks before anyone walks on them. This allows removal of most of the snow, which reduces the need for salt.  If you must use salt, please use it sparingly.
Protect Carpets and Floors. Use floor coverings to protect your carpets and floors. Put rug runners over carpets, and tape heavy-duty paper or cardboard over hardwood and tile. Do not use plastic sheeting. Plastic may protect your floor, but its slippery surface becomes even slicker when you track in melting snow.
Provide Extra Protection for Fragile Items. The temperature change of moving from an unheated moving van into a heated house can add enough stress to crack glass and other fragile items. When packing, give them an extra layer or two of padding. You may want to carry antiques or other fragile items in your car, or pay for professional packing services. Remember that the insurance coverage you select only covers boxed items packed by our professionals.
Pack Winter Clothing and Safety Items in Your Car. Don't leave home without a fully charged cell phone, a car charger and a full tank of gas. For long-distance trips, it's a good idea to keep an ice scraper, shovel, salt, flashlights, batteries, flares and a first aid kit in the car. You will also want to wear warm clothing, winter coats, hats, gloves and boots and to pack blankets or sleeping bags. A bag of sand or cat litter or a few carpet remnants can prove helpful if your tires get stuck. Don't forget water and food for adults, children and pets. A thermos with a hot liquid like coffee, tea, hot chocolate or soup can help keep you warm and hydrated.
Provide for Children and Pets. Cold, snowy weather can make the move harder for them, too. Make sure to pack toys, snacks, electronics and safety seats for the kids. You'll need a crate or other means of restraining pets, as well a litter box for cats and a collar and leash for dogs. The last thing you want is to have a pet escape on the way to your new home!
Make Sure Your New Home Has Heat and Lights. Start heating and electricity services a day or two before the move, and ask your realtor or property owner to double check that these are working before you head out.
Map Your Move. Before leaving your old home, map a primary route and an alternate to use in case weather or traffic block your main route. Check on road and traffic conditions before you leave the house. For long-distance moves, call ahead and confirm any hotel accommodations.
Bring an Emergency Contact List. It is a good idea to let family or friends know the route you plan to take and when you plan to leave. Call or text them about any delays and when you have safely arrived.
Have questions about planning winter moves? We're here to help! Email info@herlihymoving.com or call one of our offices – 614.871.4040 (Columbus, Ohio), 740.775.6683 (Chillicothe, Ohio) or 740.698.0033 (Athens, Ohio).