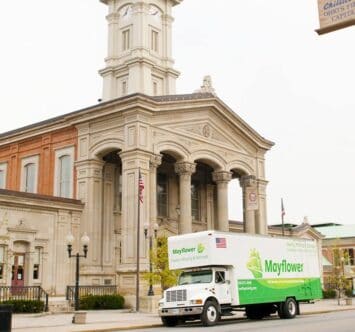 There are many reasons to consider a move to Chillicothe, Ohio. This historic city wraps up affordability and rural city charm in a beautiful setting along the Scioto River in Southern Ohio. About 22,000 people make their home in Chillicothe, which is the only city and county seat for Ross County, Ohio. According to Sperling's Best Places, the cost of living is 13.9 percent below the national average.
Chillicothe is a little over an hour from Columbus or Dayton and two hours from Cincinnati.  It's a popular destination for history buffs, outdoor enthusiasts and people drawn to a medium-sized city in a rural area of the state.
Chillicothe takes its name from the Shawnee Chala·ka·tha, one of the five major clans of the Shawnee people. The area around modern Chillicothe was once the chief settlement of this tribal group. Centuries earlier, the region was the center of the ancient Hopewell culture, which built earthen mounds for ceremonial and burial purposes throughout the Scioto and Ohio River valleys.
As one of Ohio's oldest moving companies, Herlihy Moving & Storage has decades of experience in moving families and businesses in and around Ross County, Chillicothe and nearby communities, including Adelphi, Andersonville, Bainbridge, Bourneville, Clarksburg, Frankfort, Kingston, Richmond Dale, and South Salem.
To help you plan your move, we have put together a guide to finding a home in Chillicothe as well as schools and services.
Choosing a Home in Chillicothe, Ohio
Most European settlers began arriving in the Chillicothe area after the American Revolution. Nathaniel Massie laid out the town on the Scioto River in 1796. Two years later, the settlers incorporated Ross County, with Chillicothe as the county seat. The city became the capital of the Northwest Territory in 1800 and the first capital of the State of Ohio in 1803.
Because of its long history, Chillicothe features a wide variety of historic, traditional and contemporary architectural styles. This interactive map can be useful in navigating Chillicothe's neighborhoods and streets. Some of the more expensive homes can be found in the Belleview Heights neighborhood near Ohio University's Chillicothe campus as well as in Andersonville.
Begin your search for a new home at the Scioto Valley Association of Realtors or on sites such as Realtor.com and Zillow.com.
Public Elementary and Secondary Schools Serving Chillicothe County, Ohio
Ross County is home to eight different public school districts serving children from pre-Kindergarten through 12th grade. They operate 28 public schools serving 11,596 students.
Ross County is also home to private schools including Bishop Flaget Catholic School, Landmark Christian Academy and Ross County Christian Academy.
Higher Education in Ross County
Part of the public University System of Ohio, Ohio University Chillicothe is a branch of Ohio University in Athens. This non-residential regional campus has an enrollment of over 2,500 students.
Pickaway-Ross Career and Technology Center has two divisions – one for juniors and seniors in high school, and another to provide adults with specialized courses to help them obtain and retain jobs. Students have a choice of more than 20 different career tracks, while adults can choose from courses such as welding, electrical, HVAC and maintenance.
Chillicothe, Ohio Utilities
Moving into a new home or apartment can be an exciting but chaotic time. Make sure to contact utility services including electric, natural gas, water, sewer, cable and internet well in advance of your move.  Available services may vary depending on whether you choose a home in the city of Chillicothe or in a smaller community or rural area in Ross County. Please note that Herlihy does not endorse any of these services and provides contact information for your convenience only.
Don't forget to set up services to start 24 hours before you move in!
Water and Sewer Services
The Chillicothe City Utilities Department provides water and sewer services to residents.
The Ross County Water Company provides quality residential and commercial water service to approximately 14,000 customers in areas of Ross, Pike, Pickaway, Vinton, Hocking, and Jackson counties in Ohio.
Electrical Service
Natural Gas Services
Telephone and Internet Providers
Chillicothe, Ohio Police and Fire Services
The Chillicothe Police Department offers law enforcement services within the city of Chillicothe.
The Chillicothe Fire Department protects the lives and property of Chillicothe residents from fires, natural disasters, and hazardous materials and provides emergency medical services.
The Ross County Sherriff's Office provides law enforcement services throughout the county.
More than a dozen local fire departments serve Ross County communities. You can find their telephone numbers on the Ohio Firefighters website.
Chillicothe, Ohio News Media
Ohio's oldest newspaper, the Chillicothe Gazette is a daily newspaper and multimedia news source serving Chillicothe and Ross County. It has a paid daily circulation of about 15,500.
Looking for professional, reliable Chillicothe, Ohio movers? Contact us today to experience the Herlihy Moving & Storage difference. Since 1920, we have moved thousands of Ohio families and businesses around Ohio, across the United States, and around the world. We're BBB accredited and Angie's List approved. And, as a locally owned and top-rated agent of Mayflower Moving serving Chillicothe, Athens, and Columbus, Ohio, we have the resources to move you, no matter where you need to go.