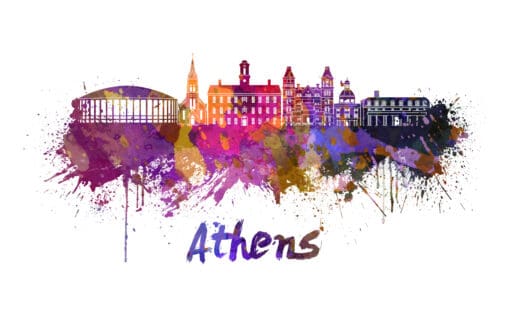 A Guide to Planning Your Move to Athens, Ohio
Posted By: herlihywp
Comments: 0
Categories: Athens, moving, Moving Tips
There are many reasons to consider a move to Athens, Ohio, which appropriately takes its name from the ancient center of learning – Athens, Greece. Named America's Best Small College Town in 2016 by USA Today, Athens is a small jewel of a city nestled in rolling Appalachian hills along the Hocking River. In 2006, Mother Earth News featured Athens as one of "Twelve Great Places You've Never Heard Of."
Home to Ohio University since 1808, Athens also serves as the seat of Athens County government. The city has more than 24,000 residents.
Athens is a little over an hour from Columbus and two from Cincinnati.  It's a popular destination for outdoor enthusiasts, art lovers, history buffs, foodies and anyone who wants to escape the fast pace of the city.
As one of Ohio's oldest moving companies, Herlihy Moving & Storage has decades of experience in moving students, families and businesses in and around Athens and nearby communities, including: Albany, Amesville, Buchtel, Carbondale, Chauncey, Coolville, Glouster, Guysville, Hockingport, Jacksonville, Millfield, Nelsonville, New Marshfield, Shade, Sharpsburg, Stewart, The Plains and Trimble.
To help you plan your move, we have put together a guide to Athens-area neighborhoods, schools and services.
Choosing a Home in Athens, Ohio
The first European settlers arrived in what became Athens in 1797, and the city has an interesting mix of historic and modern architectural styles. As a college town, Athens offers a wide variety of single- and multi-family dwellings.
Athens City Planner Paul Logue created a downloadable map that highlights the composition of various neighborhoods in the city. A number of these maintain their own neighborhood associations. Begin your search for local real estate listings at The Athens County Board of Realtors.
Public Elementary and Secondary Schools Serving Athens County, Ohio
The Athens City School District operates four elementary schools, one middle school and one high school. It serves more than 2,500 students from Kindergarten through 12th grade.
Headquartered in Stewart, Ohio, the Federal Hocking School District serves students in Athens and Morgan counties. It operates Amesville Elementary School, Coolville Elementary School and Federal Hocking Secondary School.  It serves nearly 1,000 students from Kindergarten through 12th grade and operates an early childhood program.
Based in Albany, Ohio, the Alexander Local School District operates Alexander Elementary and Alexander Junior / Senior High School.  The school district includes all of Alexander, Lee, and Lodi townships, most of Waterloo Township and a small portion of west-central Athens Township in Athens County, as well as Columbia Township in northwestern Meigs County and a small portion of far eastern Knox Township in Vinton County. The ALSD also includes the communities of Albany, New Marshfield, and Shade. Total enrollment is approximately 1,520 students, Preschool through Grade 12.
Nelsonville-York City Schools serve northern Athens County and a small section of Hocking County. The district represents the communities of Nelsonville, Buchtel, Carbon Hill, Murray City, and Ward Township of Hocking county.  It maintains three school buildings and an administrative building located on one central campus:
An elementary school serves approximately 800 students.
Nelsonville-York Junior High houses grades 7 & 8 and serves more than 200 students.
Nelsonville-York High School is a 9-12 institution with an enrollment of around 350 students.
Higher Education in Athens County
Part of the public University System of Ohio, Ohio University has an on-campus enrollment of more than 20,000 undergraduate and graduate students. Founded in 1804, OU is the ninth oldest public university in the United States. The university offers more than 250 academic programs and has more than 5,300 employees, making it the top employer in Athens County.
Headquartered in Nelsonville, Hocking College was founded in 1968 with a focus on environmental studies and giving students a hands-on learning experience at an affordable price.
Athens, Ohio Utilities
Moving into a new home or apartment can be an exciting but chaotic time. Make sure to contact utility services including electric, natural gas, water, sewer, cable and internet well in advance of your move.  Available services may vary depending on whether you choose a home in the city of Athens or in a smaller community or rural area in Athens County. Please note that Herlihy does not endorse any of these services and provides contact information for your convenience only.
Don't forget to set up services to start 24 hours before you move in!
Water and Sewer Services
The Athens County Water & Sewer District serves The Plains and the Village of Buchtel.
If you buy or rent a home within the city of Athens, you will receive a single bill for water, sewer, sanitation and recycling services. Sign up for services with the Utilities Billing department.
Le-Ax Water District serves the Village of Albany, plus 6,750 customers in 17 townships in four counties.
Electrical Service
American Electric Power provides electrical power generation, transmission, distribution and retail energy sales to more than 5 million customers. Click here for information about starting or stopping services.
Buckeye Rural Electric Cooperative provides electricity to over 18,821 consumers in parts of nine counties: Athens, Gallia, Jackson, Lawrence, Meigs, Pike, Ross, Scioto, and Vinton. Contact the cooperative about two weeks before you plan to need service. Click here for information about starting services.
Southeast Ohio Public Energy Council. Ohio law allows citizens in local communities to join forces to buy natural gas and/or electricity as a group and solicit the lowest price for the group's natural gas and/or electricity needs. If you live in Athens City, unincorporated Athens County, or the villages of Albany, Amesville, Buchtel, Jacksonville or Trimble, you may be able to save money by choosing SOPEC as your retail energy transmission source when you sign up for services through a retail energy company.
Natural Gas Services
Columbia Gas of Ohio provides natural gas to about 1.4 million customers throughout the state. Call 1-800-344-4077 to discuss starting or stopping services.
Headquartered in Nelsonville, Southeastern Natural Gas Company provides natural gas. Call (740) 753-9370 to discuss services.
Telephone and Internet Providers
Athens, Ohio Police and Fire Services
Learn about police, fire and other city services on the City of Athens website.
The Athens County Sheriff's Office provides law enforcement services throughout the county.
More than a dozen volunteer fire departments serve Athens County communities. You can find their telephone numbers on the Ohio Firefighters website.
Athens, Ohio News Media
Established in 1848, the Athens Messenger is a daily newspaper and multimedia news source serving Athens and surrounding communities. It has a paid daily circulation of about 10,000, increasing to 12,000 on Sundays.
Established in 1977, the Athens News is a twice-weekly controlled circulation newspaper serving Athens and Athens County, Ohio. You can pick up a copy Monday and Thursday at locations in and around Athens and Nelsonville.
Looking for professional, reliable Athens, Ohio movers? Contact us today to experience the Herlihy Moving & Storage difference. Since 1920, we have moved thousands of Ohio families and businesses around Ohio, across the United States, and around the world. We're BBB accredited and Angie's List approved. And, as a locally owned and top-rated agent of Mayflower Moving serving Chillicothe, Athens, and Columbus, Ohio, we have the resources to move you, no matter where you need to go.