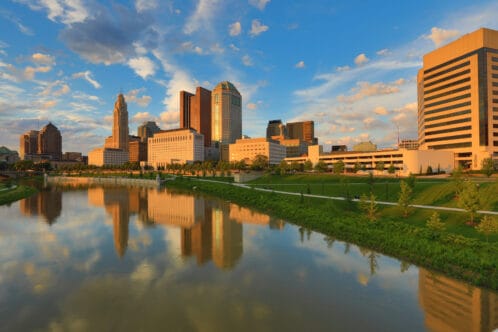 There are many reasons to consider moving to Columbus, Ohio. This Midwestern city boasts a diverse, recession-resistant economy, thanks to a broad base of both private and public-sector employers. You'll find рlеntу оf јоbs іn banking, defense, education, energy, fashion, food, government, healthcare, hospitality, insurance, medical research, retail, technology and other industries. And, with its vibrant entrepreneurial community, Columbus is a great place to start a business.
Herlihy Moving & Storage has more than 95 years of experience navigating the streets of Ohio's capital city. To help you settle in, we've put together a moving guide with interesting facts about Columbus as well as links to local government offices, utilities and other service providers.
Fast Facts about Columbus, Ohio
Nicknames: CBUS, Discovery City, Arch City
City population: 860,090 – the 14th largest city in the country
Metro population: 2,041,520. The Columbus metropolitan statistical area (MSA) covers 10 counties: Delaware, Fairfield, Franklin, Hocking, Licking, Madison, Morrow, Perry, Pickaway, and Union.
Median age: 31.5 (U.S. median age is 37.2)
Climate: Columbus has a humid continental climate with relatively hot summers, cold winters and no dry season. The average annual temperature is about 51.4 degrees Fahrenheit.
Jobs in Columbus, Ohio
Central Ohio's strong and diverse economy provides a great foundation for your career and family life. The area benefits from solid public-sector employment through the federal Defense Supply Center Columbus, the state capital, the Franklin county seat, and The Ohio State University. Many large companies such as J.P. Morgan Chase, Huntington Bancshares, Nationwide Insurance, Wendy's International, and L Brands are also headquartered here.
If you're looking for a job, the OhioMeansJobs website is a great place to start. Entrepreneurs can consult this helpful guide to starting a business in Ohio.
Finding a Home in Columbus, Ohio
Sometimes called "The Biggest Small Town in America," Columbus has kept its livable, friendly feel even while growing into one of the Midwest's largest cities. The city and its suburbs offer something for everyone:
Walkable urban neighborhoods downtown and nearby in the Short North, Franklinton, German Village, Italian Village, Old Towne East, Merion Village and Victorian Village neighborhoods.
Inner-ring suburbs such as Bexley, Grandview Heights and Upper Arlington that offer great schools and established homes within 15 minutes of downtown.
Outer suburban communities such as Dublin, Grove City, Hilliard, New Albany, Powell, Westerville and Worthington, which tend to feature newer homes and highly ranked school districts.
Country living in rural Delaware, Fairfield, Franklin, Hocking, Licking, Madison, Morrow, Perry, Pickaway, and Union counties.
With a wide range of rental and home ownership options, Columbus ranks as one of the country's most affordable communities. Begin your search for a new place to live at Realtor.com, Zillow.com or with a local Columbus realtor.
Columbus, Ohio Government
As the state capital, Columbus houses many state government offices. Home to the Governor's office and state legislature, the Ohio Statehouse is located at the corner of Broad and High streets in the center of downtown Columbus. The Ohio.gov website contains links to state government departments and services.
Columbus is the county seat of Franklin County, Ohio. The Franklin County website includes links to county services, such water and sewer services for some parts of the county. Check out the Franklin County Auditor's website for information about dog licensing and property ownership and taxes.
Columbus City Hall is located at 90 West Broad Street – just a block away from the Ohio Statehouse. The City of Columbus website is your starting point for information about city government and services.
Columbus, Ohio Utilities
One of your first chores on moving to Columbus will be to arrange for electrical, gas, cable and other services.
The City of Columbus can help with arranging new water, sewer or power service.
You can obtain information on garbage and recycling collection through the City's Division of Refuse Collection.
American Electric Power is the area's principal commercial electrical power provider. You can also obtain electrical service through the City of Columbus at the link above.
Columbia Gas of Ohio is the area's principal commercial provider of natural gas.
Looking for the best utility rates? Compare offers at the Energy Choice Ohio website, maintained by the Public Utilities Commission of Ohio (PUCO).
Columbus, Ohio Education
Columbus has been named one of the most intelligent cities in the world, thanks in part to its strong educational offerings. You'll find top-ranked K-12 school systems and over 50 over 50 college and university campuses in Central Ohio.
If you have children in elementary or secondary school, check out the Great Schools website. Columbus Parent also publishes a guide to area private schools
Columbus offers an amazing array of higher education options for students of all ages. Programs range from professional certificates to bachelors, masters and doctoral degrees, and many part-time programs are available for working students. The Ohio State University and Columbus State Community College are part of the University System of Ohio. Other major institutions include Capital University, the Columbus College of Art and Design, Franklin University, Ohio Dominican University and Otterbein University.
Columbus, Ohio Libraries
The nationally ranked Columbus Metropolitan Library is your source for books, ebooks, movies and more. The library has branches and affiliates throughout Columbus and its suburbs. You can also conduct research at the State Library of Ohio and the archives of the Ohio Historical Society.
Columbus, Ohio Transportation
Columbus is centrally located in the Midwest, within a day's drive of 60 percent of the population in the U.S. and Canada. It sits at the crossroads of I-70 and I-71 and is surrounded by the I-270 outer belt. Other major freeways include I-670, which provides quick access from downtown to the Port Columbus airport, and SR 315, which connects downtown to the northern suburbs of Worthington and Powell. Traffic congestion tends to be minimal compared to that in other major cities. You can obtain real-time traffic updates at the OhGo website operated by the Ohio Department of Transportation.
Millions of passengers fly each year through John Glenn International Airport (CMH), located at 4600 International Gateway on the city's east side. You can book flights through major carriers including American Airlines, Delta, Southwest Airlines and United Airlines. The airport is operated by the Columbus Regional Airport Authority, which also oversees a charter and cargo terminal at Rickenbacker International Airport (LCK). Budget air carrier Allegiant Airlines schedules flights to Florida at Rickenbacker. Private aviators fly out of Bolton Field on the city's Southwest side.
The Central Ohio Transit Authority provides public transportation for greater Columbus and central Ohio. Providing more than 19 million passenger trips annually, COTA operates buses throughout Franklin County, and parts of Delaware, Fairfield, Licking and Union Counties.
Police and Fire Services in Columbus, Ohio
The Department of Public Safety oversees Police and Fire services within the City of Columbus.
The Franklin County Sheriff's Office also provides law enforcement services throughout the county.
Columbus, Ohio Attractions and Entertainment
You'll have a blast in Columbus, which offers everything from the country's #1 zoo and #1 science center to parks, sports, galleries, museums, theater and entertainment districts. To learn more, check out our guide to Columbus, Ohio attractions.
Looking for professional, reliable Columbus, Ohio movers? Contact us today to experience the Herlihy Moving & Storage difference. As one of Ohio's oldest moving companies, we have moved thousands of families and businesses within Ohio, across the United States, and around the world. We're BBB accredited and Angie's List approved. And, as a locally owned and top-rated agent of Mayflower Moving serving Chillicothe, Athens, and Columbus, Ohio, we have the resources to move you, no matter where you need to go.