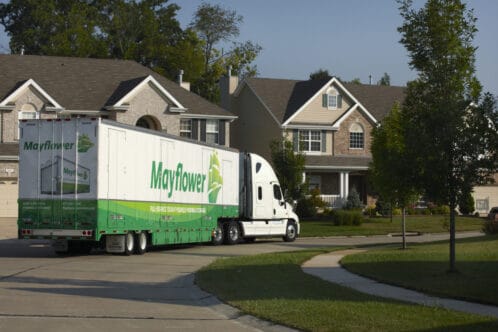 As a locally owned agent of Mayflower Moving, Herlihy Moving & Storage has the trained personnel, equipment and other resources to handle any local or long-distance move. We recently had the privilege of helping Sandra G. with a long-distance move from Athens, Ohio to Johnson City, Tennessee.
After our Athens moving team had finished the 320-mile drive and unloaded her furniture and other belongings, Sandra took the time to send us a letter about her experience. Here are a few excerpts:
"Even though there are still boxes to be unpacked, so many more have been emptied, and I wanted to be sure to express to you how very pleased I have been with the part of the moving for which you and yours were responsible.
"From my first meeting with you through our last "Thank you" and "Goodbye" to the crew as they went out the door, everything went so well. I found the provided reading material about the move, especially the weekly countdown, to be very helpful! It answered all but a few of my questions, and those I still wondered about, you patiently and willingly answered.
"The crew worked very hard and efficiently and confidently completed the packing and loading. Here in Tennessee, the unloading also went smoothly. Everything arrived safely and in good condition. Now if I can just decide where to put everything … Again, thank you!"
Thank YOU for your kind words, Sandra, and the trust you placed in Herlihy Moving & Storage to handle your relocation from Columbus, Ohio to Tennessee. Enjoy your new home!
Looking for a professional, reliable Athens, Ohio moving company? Contact us today to experience the Herlihy Moving & Storage difference. As one of Ohio's oldest moving companies, we have moved thousands of families and businesses within Ohio, across the United States, and around the world. We're BBB accredited and Angie's List approved. And, as a locally owned and top-rated agent of Mayflower Moving serving Chillicothe, Athens, and Columbus, Ohio, we have the resources to move you, no matter where you need to go.