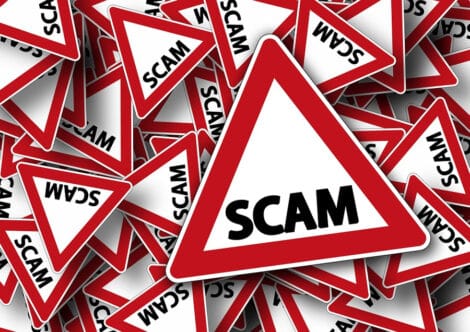 5 Tips to Help You Steer Clear of Moving Scams
Posted By: herlihywp
Comments: 0
Categories: moving, Moving Tips
Did you know that moving fraud affects thousands of Americans each year? Moving is stressful enough, without having to deal with scams and deceptions. You may have a great deal of time, money and memories invested in your household possessions. Don't take a risk on a rogue mover!
Steer clear of scams by looking for the following red flags:
Tip 1: Avoid Fly-By-Night Movers.
If you find a mover via Craiglist or a sign posted on a telephone pole, make sure to investigate further. Check websites and the phone book to ensure they have a physical address in your area. Having a residential address, no address, or just listing a P.O. Box could be an indicator the business is not legitimate.
Pro tip: Check to see if the business belongs to the American Moving & Storage Association. Members must pass a background screening with government authorities at the state or federal level, as well as with their Better Business Bureau chapter. They have also pledged to abide by and uphold the AMSA Code of Ethics.
In Ohio, all moving company vehicles and published ads for moving services should include a PUCO number.  You can check out a list of Ohio-licensed household goods carriers on the Public Utilities Commission of Ohio website.
For an interstate move, also check to determine whether the mover is registered with the Federal Motor Carrier Safety Administration and has a U.S. Department of Transportation (D.O.T.) number.
Tip 2: Get Written Estimates.
Get an in-home, written, signed estimate from any moving company you are considering. This will prevent any disagreement later about the scope and cost of your move. It is wise to compare a few estimates from legitimate moving companies.
Tip 3: Ask for References.
Ask each moving company you're considering for three local references. You can also check online reviews to get a feel for the company's customer service record. Or, ask local family and friends for their recommendations. Many legitimate movers receive much of their business from referrals.
Tip 4: Look at the Truck.
Professional movers use company-branded vehicles. Don't allow your goods to be loaded into rental or unmarked vehicles, which are a sign you could be dealing with inexperienced movers or scammers. In a worst-case scenario, you might never see your stuff again!
Tip 5: Don't Pay a Deposit
Legitimate movers should not ask for a deposit before moving your items. They will provide a written estimate and ask for payment at the end of the move. Rogue operations often offer lowball estimates, and then hold their victims' possessions hostage until they receive additional payments.
What to Do If You've Been Scammed?
Unfortunately, some consumers will still fall victim to moving scams this year. Fortunately, there is a service called MoveRescue available to help.
If you feel you've been scammed, contact MoveRescue at 800-832-1773. Consumers who call this number will talk to a representative who will assess the situation and guide them through appropriate next steps.
This nonprofit service is endorsed by Mayflower Transit and United Van Lines. As leaders in the transportation industry, Mayflower and United have pledged their support to help customers when scammers violate the federal consumer protection regulations. This service is just another reason Herlihy is proud of our long affiliation with Mayflower Transit!
Looking for a professional, reliable Columbus, Ohio moving company? Contact us today to experience the Herlihy Moving & Storage difference. As one of Ohio's oldest moving companies, we have moved thousands of families and businesses within Ohio, across the United States, and around the world. We're BBB accredited and Angie's List approved. And, as a locally owned and top-rated agent of Mayflower Moving serving Chillicothe, Athens, and Columbus, Ohio, we have the resources to move you, no matter where you need to go.