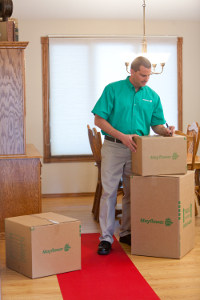 Moving into your new home is an exciting time for you and your family. To keep moving as simple and stress-free as possible, we've put together a few tips to help you prepare.
Before your driver arrives at the new home, there are a few things you can do.
First, call your new utility companies to start service the day before you expect to move in.
Also, have a plan for where you'd like your furniture placed in the home. A simple drawing can be very helpful for directing the movers. It also can prevent you from having to rearrange furniture after the movers leave.
We also recommend that you clean your new home before the driver arrives. If you prefer, we can arrange cleaning service for you.
On your moving day, it's important that you're at your home before your driver arrives. Your driver will contact you 24 hours before delivery to let you know when to expect the truck to arrive.
If possible, have two people at home on move-in day. One should make sure that everything from the inventory list is unloaded. Another should tell the movers where you'd like your items placed.
You also may want to consider having a babysitter for small children and an out-of-the-way location for pets so you can devote your full attention to the moving process.
As the movers unload, check items off the inventory list as they are unloaded from the truck. In the unlikely event that something is missing, call your Herlihy moving coordinator to report the missing item.
Finally, let your movers know if you need any additional services. They will reassemble anything that they disassembled on the day you moved out, including beds. Other assembly, electronic installation and unpacking can be arranged for an additional fee.
These tips are designed to make move-in day go as smoothly as possible. If you have questions about any aspect of local or long-distance moves, please contact us today!