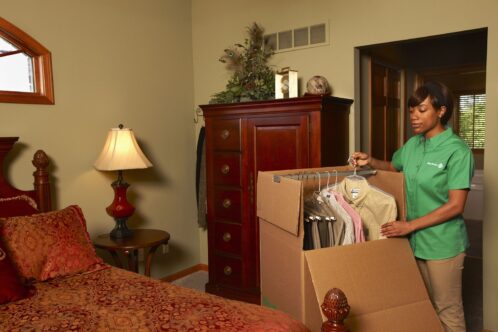 Good packing is essential for a stress-free move. Watch this video and follow Mayflower's proven techniques for packing your family room items safely and securely.
Before you start, it's a good idea to gather everything you'll need, including:
Sturdy boxes of various sizes with flaps that can be completely closed
Packing paper
Paper pads
Tissue paper
Packing tape for sealing packed boxes
Felt-tip markers for labeling boxes
Once you have everything you need, get can get started.
Packing Lamps
When packing lamps, begin by disassembling the lamp. Pack the base and the shade separately. For the shade, use a sturdy box at least 2 inches larger than the shade and line it with clean paper. Fill the box with a large amount of crumpled packing paper. Put one lampshade in the box, and fill in the empty spaces with tissue paper. Do not pack other items with the shade. When packing the base, wrap it in a paper pad. Place it in a box with crumpled packing paper.
How to Pack Mirrors and Picture Frames
Anything framed in glass can be easily damaged. You might want to consult a professional about packing these items. If you choose to do it yourself, order a mirror box made for glass items. Assemble the box. Wrap the item in paper, put it in the box, and tape all the way around the box.
Packing TV Sets, Computers and Other Electronic Items
Items like home computers and other electronics require special care. If you saved the original boxes and packing material, it is best to pack using those materials. Or, ask your Herlihy representative for special boxes for these items.
It is important to pack your flat-screen television pack carefully and protect it during transit. Ask your Herlihy representative for a special television box. Use a thin foam wrap to protect the screen, and always pack it upright. Never lay the television flat in a box. To provide an extra layer of protection, wrap the items in paper pads or layers of paper towel.

Questions about packing for your move? We're here to help!
Contact us today for packing tips, packing materials or full-service packing services.