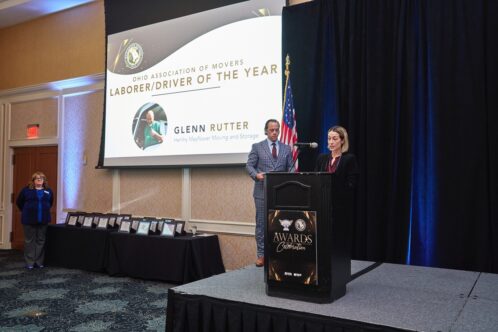 Glenn Rutter Earns Top Honor
Posted By: herlihywp
Comments: 0
Categories: Awards
Ohio Association of Movers' 2022 Laborer/Driver of the Year
Each year the Ohio Association of Movers (OAM) selects the OAM Laborer/Driver of the year. We are incredibly honored to announce that Glenn Rutter of Herlihy Moving & Storage was named the Ohio Association of Movers' 2022 Laborer/Driver of the Year.
Glenn has won the company's Top Driver Award for our 3 locations and was described as dependable, efficient, and consistently punctual by his customers.
Ironically, Glenn could not make the event, as he was doing what he loves, driving his truck back from the west coast. So instead, Sarah Debroas from Herlihy received the award on his behalf at the OAM Annual Awards Ceremony.
Herlihy Moving & Storage holds their truck drivers and movers in high regard, with respect and knowing that they work hard each and every day to help ensure that our customers' moves go smoothly and on time.
Glenn, you are the 'Best of the Best.' Congratulations, and thank you for your commitment to Herlihy Moving & Storage's customers and moving crews.