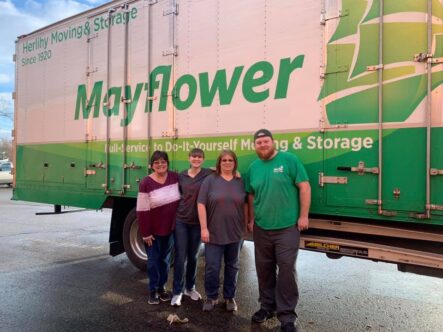 At Herlihy Mayflower, we're proud of our long history of giving back to the communities whose families and businesses trust us with their moves. We're also inspired to hire associates like Move Coordinator Michelle Hughes, who are passionate about making our communities better.
"I started working for James Herlihy at Herlihy Columbus a little over 90 days ago," she said. "I knew nothing of the business, but was thrilled that he would take a chance on me and give me this amazing opportunity."
When not at Herlihy, Michelle is a wife and mother to three children aged 20, 18 and 15 years old. She commutes to Herlihy Columbus offices in Grove City, Ohio from her home in/near Ashville, Ohio.
To give back to her community, Michelle started nonprofit Wide Open Hearts. The group's current mission is to support Haven House of Pickaway County, Inc., a domestic violence and homeless shelter.
Haven House strives to empower survivors of domestic violence by providing advocacy, shelter, support and safety planning. It also provides shelter for women and children who are homeless. Victims of domestic violence often flee their homes with only the clothes they are wearing. Michelle and Wide Open Hearts resolved to collect clothing for the women and their children.
In January, the group held a clothing drive. After a month of coordinating drop offs and sorting countless items of women and children's clothing, they collected 28 large boxes – with more coming in daily.
"Our event was picked up on social media and went viral," Michelle said. "To say I was shocked would be an understatement!"
Overwhelmed by the generosity of her neighbors and friends, Michelle worried about how she would deliver their donations to Haven House. "No way could I get them there in my Chevy Cruze!"
After much prayer, she approached her new boss for help. "James not only supplied a truck but a mover as well!" she said. "I am blessed to work for a man who truly cares about his employees and his community."
When the Herlihy Moving truck pulled up at Haven House, the women were jubilant. "They cried, and it was hugs all around," Michelle said.
"Wide Open Hearts is beyond blessed to have partnered with Herlihy Moving and Storage Columbus for this project," she added. "It was amazing that they chose to be part of our journey."