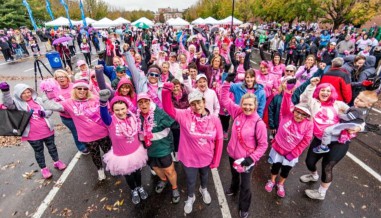 We were excited to support the 2018 Komen Southeast Ohio Race for the Cure®.  On Sunday, October 14, nearly 1,000 turned out for the 4th annual race on the campus of Ohio University in Athens, Ohio. The race raised over $63,000 to support local breast cancer programming for underserved and underinsured women as well as national research.
Each year, Herlihy Mayflower provides logistical support for Komen Race for the Cure events in Columbus and Athens, Ohio. This year, we donated the use of a 24-foot moving truck to transport supplies to the event location.
"Thank you so much for your generous contribution of a really great truck for the 2018 Southeast Ohio Race for the Cure in Athens on October 14th," said Tammy Weis, Interim Director of Corporate Relations. "It made loading and unloading all of our supplies a much easier process and was much appreciated by our staff!
"Our partnerships with organizations like yours are the mainstay that supports our mission to reduce breast cancer deaths 50% by 2026," she added. "We value those relationships beyond measure and the support to our 30 county service area in Central and Southeast Ohio is critical to the women we serve."
The Susan G. Komen Race for the Cure® Series is the world's largest education and fundraising event for breast cancer. The event raises funds and awareness for the breast cancer movement, celebrates breast cancer survivorship and honors those who have lost their battle with the disease.
Giving back is a core value at Herlihy Moving & Storage. We consider it an honor and a privilege to support charitable organizations in the Columbus, Chillicothe, and Athens, Ohio communities that have done so much for our business and our family.