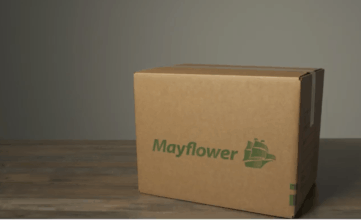 Moving takes time, and packing usually takes longer than you think it will. To avoid a frenzy of last-minute packing, you should start at least six weeks before you move.
You'll probably want to declutter by selling, donating or discarding items you no longer need to reduce the size of your move. You can do this before you start packing, or by keeping sales/donation boxes and a trash can nearby as you pack.
Gather boxes and other moving supplies.
The first step in packing is to obtain your moving supplies. We recommend that these include:
Clean newsprint for wrapping your items. We recommend clean newsprint because it has no ink that can transfer to your hands or possessions.
Tissue paper to protect fragile items or protect clothing from wrinkles.
Bubble wrap to protect fragile items.
Rubber bands to hold small items together.
Packing tape. Make sure to buy tape designed for packing. Masking and duct tape may not adhere securely to boxes, which can result in your boxes falling apart mid-move.
Markers to label boxes.
A box cutter to open boxes that have been sealed.
Sturdy moving boxes in a variety of sizes. Use only new or slightly used boxes. Worn boxes may fail to protect your belongings or even collapse. Buy more boxes than you think you'll need. You can always return unused boxes.
Keep all of your supplies together as you move from room to room while packing. Do not mix items from different rooms in the boxes you pack.
Prep boxes for packing.
The next step in packing is to choose the right size box for the items you will be packing. Heavier items like books should go in small boxes. Pillows, blankets and other lightweight items can go in the largest boxes. Boxes should weigh no more than 30 pounds when packed.
To prep each box, open it and secure bottom flaps with shipping tape. For heavier boxes, you might want to reinforce side seams with tape as well. You can tape top flaps to the sides of the box so they don't get in the way while packing.
After assembling each box, fill the bottom with crumpled newsprint. As you pack, you will also want to put crumpled paper between items and the sides of the box, as well as on the top.
After you've packed each box, secure the top flaps with shipping tape, then use a marker to label the box on the sides. It's a good idea to write down the contents as well as the room in which it belongs.
Watch the packing tips video from Mayflower below to see how easy it is to get started. Your Herlihy Mayflower moving coordinator is here to help if you have any questions or would like to hire professional packers for your move.
Looking for a professional, reliable Columbus, Ohio moving company? Contact us today to experience the Herlihy Mayflower difference. As one of Ohio's oldest moving companies, we have moved thousands of families and businesses within Ohio, across the United States, and around the world. We're BBB accredited and Angie's List approved. And, as a locally owned and top-rated agent of Mayflower Moving serving Chillicothe, Athens, and Columbus, Ohio, we have the resources to move you, no matter where you need to go.