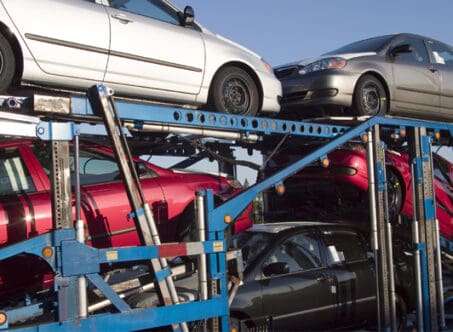 Seven Tips for Moving or Shipping Your Car
Posted By: herlihywp
Comments: 0
Categories: Moving Tips
Driving to a new home isn't always an option for long-distance moves – especially if your family owns more than one car. You may find it easier and more convenient to ship your vehicles.
If you'd like to consider shipping your vehicle but don't know where to begin, call on the moving experts at Herlihy Mayflower Moving & Storage. As an authorized agent of Mayflower Transit, we have access to a nationwide fleet of car carrier units and unbeatable auto transportation services. Whether you're shipping just a vehicle or moving your car and your household belongings, we can help.
To help you get started with planning for moving or shipping your car, we've put together a few tips.
Use a licensed and bonded carrier. Protect yourself against scammers! Make sure the relocation company you select to ship your vehicle is both licensed and insured. For licensing information, visit the US Department of Transportation Federal Motor Carriers Safety Administration SAFER system.
Plan ahead. Given the logistics involved, you are wise to begin planning as soon as you know you're moving. On average, Mayflower can deliver most domestic auto shipments in 8 to 10 business days, but your timeframe will be determined by the distance traveled. If you are flying to your new destination and want your vehicle to be there when you arrive, you will need to plan your shipping date accordingly. Depending upon shipping schedules, you may need to arrange for a rental car either before you leave or at your new destination.
Decide on the type of transport. For most vehicles, open-sided transport will be more cost-effective. However, you might consider closed transport for antique, vintage and luxury automobiles. Please let your Herlihy Mayflower moving coordinator know if your vehicle fits into any of these categories:
Over 25 years old
Modified with a lift kit, dually wheels, cab lights, camper shells or oversize tires
Modified to over 75 inches in height or 220 inches in length
Weighing more than 5,000 pounds
Inoperable vehicles
Exceeds $60,000 in book value
Note that inoperable vehicles without an engine, brakes, wheels or steering are not eligible for standard car carrier service, but can be shipped via flatbed through Mayflower's Logistics division.
Decide on the level of service. If you select Mayflower's door-to-door car shipping service, our driver will pick up and deliver your vehicle at your home or office if possible. Mayflower only offers door-to-door car shipping service when local communities allow oversize vehicles to make deliveries.  If your neighborhood bans oversize vehicles – or if there are obstacles to delivery such as tight corners, low-hanging trees, narrow streets or tight corners – your Mayflower coordinator will inform you of alternative delivery methods.
Consider terminal-to-terminal shipping for more flexible drop-off and storage options. Your Herlihy Mayflower moving coordinator can help you decide which level of service is right for your move.
Remove all personal items from your vehicle before shipping. Personal items are not inventoried and are not the responsibility of the carrier.  Please remove sunglasses, keys, electronic devices and other items you  may normally leave in your car prior to shipment, to prevent the risk of damage, theft, loss or the removal by roadside authorities.
Your Mayflower carrier is obligated to inspect the inside of your vehicle at the point of origin and is authorized to remove any belongings.
Check your fuel level. Fill your tank one-quarter to one-half full, and no more. If the auto has more than half a tank of gas, this adds unnecessary weight to an auto carrier. In some cases, this may prevent loading if there are weight concerns.
Don't forget to give your carrier the keys. Your Mayflower carrier must have automobile keys to safely load and unload your vehicle. Keys must be fully functional and allow the driver total access to all vehicle compartments. Your Mayflower carrier cannot accept valet keys.
If you have more questions about shipping your car, contact Herlihy Mayflower Moving and Storage today or email in[email protected]. You can also find answers by visiting the Mayflower Transit website, which offers a handy FAQ on auto transport, as well as a downloadable "Auto Transport Checklist" to help you prepare your vehicle for moving day.