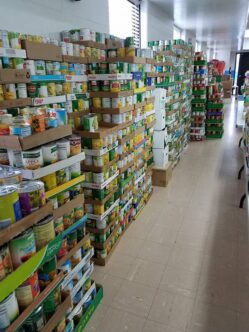 It's time for the annual White Christmas Food Drive! We're proud to sponsor this all-volunteer initiative of the Southwest Christian Ministerial Association.
During this annual event, area schools collect non-perishable items such as pastas, boxed meals, canned vegetables and cereal. Volunteers gathered to sort thousands of donated items into individual boxes to be donated to families. Leftover food will be donated to the Grove City Food Pantry at 2710 Columbus Street in Grove City.
On Friday, December 22, families from Grove City, Harrisburg and Orient, Ohio will pick up ingredients for a nourishing Christmas dinner at the Our Lady of Perpetual Help school cafeteria, 3730 Broadway, Grove City, Ohio. More than 200 families are expected to pick up meal boxes.
Herlihy Moving & Storage has been a proud member of the Columbus and Grove City, Ohio communities for more than 20 years. We consider it an honor to give back to communities that have done so much for our family and our business. Many thanks to The Southwest Christian Ministerial Association for helping us reach out to families at the holidays.