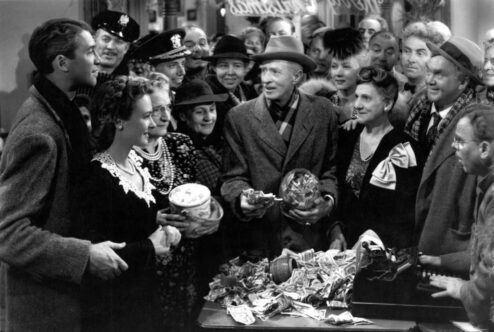 Herlihy Sponsors "It's a Wonderful Life" at Majestic Theatre Chillicothe  
Posted By: herlihywp
Comments: 0
Categories: Chillicothe, community
Each Christmas season, Herlihy Moving & Storage is proud to sponsor a holiday performance at The Majestic Theatre at 45 East Second Street in Chillicothe, Ohio.
Built in 1853 as the Masonic Opera House, The Majestic is America's oldest continually operating theater. Over the years, top acts including Bob Hope, Laurel & Hardy, Sophie Tucker, and many more appeared at The Majestic.
This year, Herlihy sponsored the showing of Frank Capra's holiday classic, It's a Wonderful Life, starring James Stewart, Donna Reed, Lionel Barrymore, Henry Travers and a cast of well-known Hollywood character actors.
Here's a plot synopsis, for anyone unfamiliar with this 1946 film: "George Bailey (James Stewart) wishes he had never been born, an angel (Henry Travers) is sent to earth to make George's wish come true. George starts to realize how many lives he has changed and impacted, and how they would be different if he was never there."
Director Capra and Stars Stewart and Reed all called It's a Wonderful Life their favorite movie. It's also been a favorite for generations of the Herlihy family. We were excited to bring it to Chillicothe historic Majestic Theater for everyone to enjoy on Dec. 2.