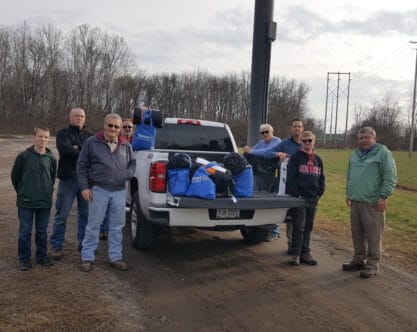 Chillicothe Knights of Columbus Deliver Sleeping Bags, Personal Care Items to Homeless
Posted By: herlihywp
Comments: 0
Categories: Chillicothe, community
As cold weather set in this year, President Joe Herlihy worked with the Knights of Columbus – Council 15793 to make life a little more comfortable for some of Chillicothe's homeless people. Joe serves as Recorder for the Council, which is affiliated with St. Peter's Catholic Church, 118 Church Street in Chillicothe, Ohio.
The Knights visited six sites where homeless people live in Chillicothe and Ross County to deliver sleeping bags and personal care goods to about 20 people.
A member of the Chillicothe and Ross County Ohio community since 1920, Herlihy Moving & Storage considers it an honor to give back to the community that has done so much for our family and our business. Many thanks to St. Peter's Catholic Church for making our community stronger and ministering to the poor in Chillicothe.