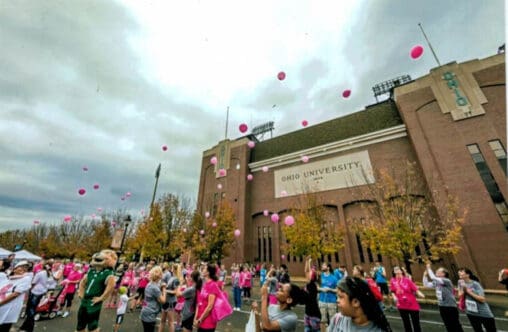 After several years of involvement with Susan G. Komen® Columbus, Herlihy Moving and Storage was pleased to support the inaugural Race for the Cure® Athens in 2015.  This year, more than 1,150 racers participated in the 3rd Annual Race for the Cure Athens on Sunday, October 15, raising more than $100,000. The race took place on the campus of Ohio University.
Herlihy Moving & Storage is proud to continue our support of this fantastic event.
"Thank you for being a part of our team and for recognizing that the power of community can, truly, save lives!" said Shelly Lewis, Director of Corporate Relations for Komen Columbus. "Your partnership is important to us, and we couldn't celebrate 3 years in southeast Ohio without the support of your organization."
The Susan G. Komen Race for the Cure® Series is the world's largest education and fundraising event for breast cancer. The event raises funds and awareness for the breast cancer movement, celebrates breast cancer survivorship and honors those who have lost their battle with the disease.
The Race is unique in that 100 percent of the net proceeds are allocated to the Komen mission, and 75 percent stays in the Athens, Ohio community to help fund local programs including:
Screening, diagnosis and treatment services,
Safe and accurate breast cancer information, and
Patient navigation programs.
The remaining 25 percent supports the Susan G. Komen® Grants Program.
Giving back is a core value at Herlihy Moving & Storage. We consider it an honor and a privilege to support charitable organizations in the Columbus, Chillicothe, and Athens, Ohio communities that have done so much for our business and our family.