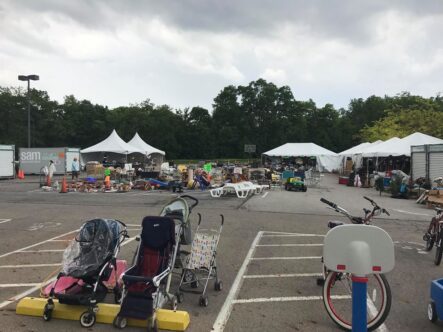 Herlihy-Mayflower Storage Containers is proud to continue our tradition of supporting First Community Church and its 22nd Annual Mission Council Gigantic Garage Sale. 
This year's Gigantic Garage Sale took place Friday, May 19 and Saturday, May 20 at the church's North Campus, 3777 Dublin Road in Columbus, Ohio.
A gigantic garage sale requires a lot of organizing, so Herlihy supplied several storage containers to hold donated goods. Items for sale included antiques, furniture, framed art, housewares, sporting goods, toys, adult and children's clothing, linens, electronics, books, tools, crafts, gardening supplies, plants and much, much more.
The Garage Sale raises approximately $50,000 annually for the Mission Council and is the church's main source of income for missions throughout the year.
Community involvement has been a priority for Herlihy Moving & Storage since we handled our first family move in 1920. We are honored to support this great event and the Columbus community.